Let me tell you, I had the day from hell. I worked overtime yesterday trying to get this new fangled set of numbers all done for the period report at work that was due today. We met at 10am to discuss the report TODAY - yeah, the day it's due. How clever! Nearly every number I spent working on yesterday for 9 and a half hours had to be reworked from a different source. Thanks boss. So I worked through my normal lunch time today, ate at my desk at 1:30 (finally) and got the report out at 2:30. THANK GOD. It was due at noon though. Oh well. It's OVER! At least for a few more weeks, then I can update it! Yay? So, after work, I head on over to
The Yarn Shop
because I knew they'd be open until 7pm. I wanted to buy my mom some yarn to go with a project in
The Happy Hooker
that I'd gotten for her. I treated myself to a skein of Cascade 220 Quatro, and a skein of Plymouth Fantasy Natural 100% Cotton for a facecloth. I also treated myself to a couple sizes of Bryspuns (I love using them for cotton.) ANYWAY, I sat for a bit and started on a Mock Cable Rib pattern (March 11 on
this
) and then I headed over to Michaels to find some crochet hooks with the padded handle that
Trillian
recommended for my mom's osteo-arthritis. I found some! Then, I finally head home. And we get to the point of this post. My next package from my SP is here! Yay! Lemme tell you,
Jochibi
is WONDERFUL as a (not so) Secret Pal. I kinda feel bad for guessing it was her back on February 16th in the Knitty thread for the SP6 guessing game. I officially busted her back here, on the
18th
. Jo, it was the Japan hint you had given me from my first package, and knowing it was shipped from Delaware. The two hints were put together on your questionnaire. But hey, I busted another SP by looking at her avatar photo code, so it was only a matter of time. (I know who funfuristhedevil is!) So, I see Jo's beautiful daughter,
Willow
has customized the package with some very fun turtles.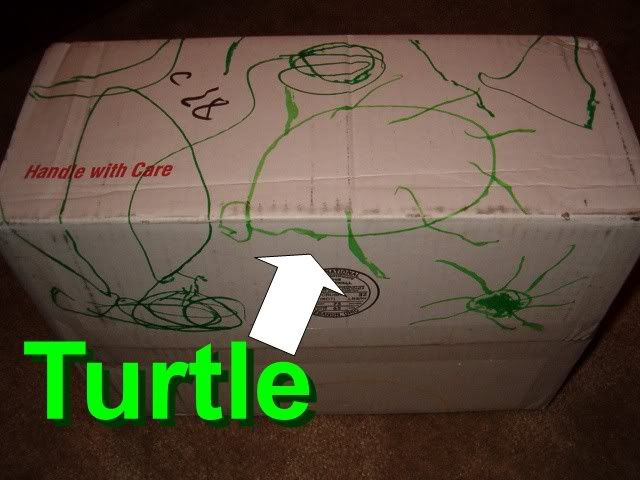 She's a budding ar-teest is she not? And then lo, behold the knitty goodness:
What's all that in there you ask? Lemme show you. First, the non-yarn: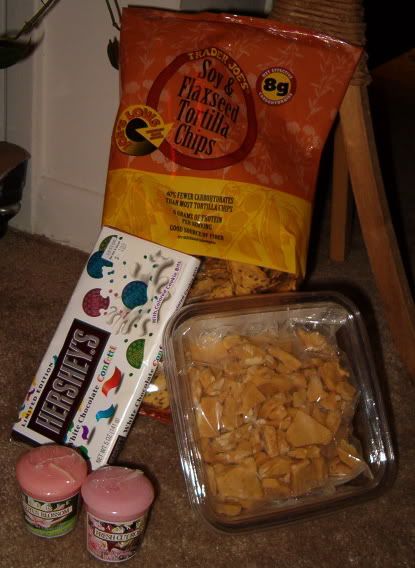 That's some Trader Joe's Gourmet Peanut Brittle (I haven't had peanut brittle in YEARS! And Trader Joe's Soy & Flaxseed Tortilla Chips. She says they're her favorite snacks. I'll take your word on the tortilla chips, Jo. Um, hmm. I'm in for an adventure I think. Fortunately, not like the
taste adventure
Domestic Overlord is about to embark on. Oh, and see that on the left? A "Limited Edition Hershey's White Chocolate Confetti" bar! Yay! Why have I not seen this anywhere? I so need to stalk the candy aisle of Harris Teeter. And those candles, to die for! One is scented "fresh cut roses" and the other "lotus blossom" and wow. Do they smell good! Anyway, lookee what else: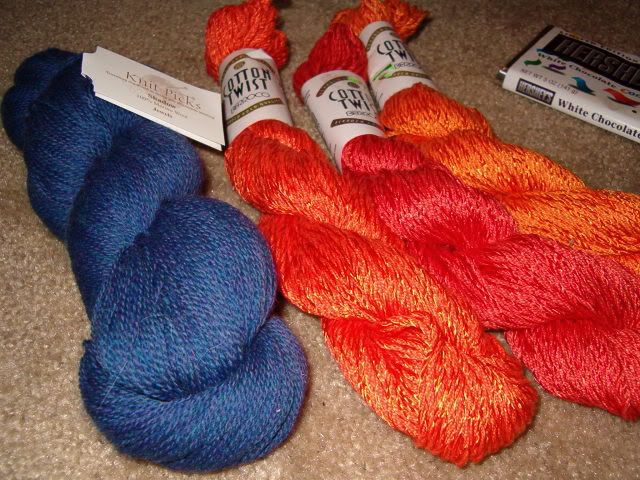 Yes, I'm sitting in front of the door because I couldn't wait to open it. Like the carpet? Heh. That's 3 skeins of Berroco Cotton Twist in my favorite Fall Foliage colors. Jochibi suggested perhaps a new Odessa, for me (!), out of it. I see she's been paying attention since I mused that perhaps I need to try cotton to combat the itchiness. You bet I will! The next step is to figure out how to make the colors swirl. And the other skein, this shows how psychic my SP is, is Knitpicks Shadow in the color Jewels - THAT I BOUGHT 2 HANKS OF TODAY to knit an Adamas Shawl! That's some psychic powers that is. The same color? How the? What? Wow. I bow to you, Jochibi, for you are far more gifted than me in psychic powers. Wow. And that wasn't all. She sent me a wonderful housewarming gift too. Before I opened it, I read her note, stating that her sister had gotten her one of these, and she uses it all the time.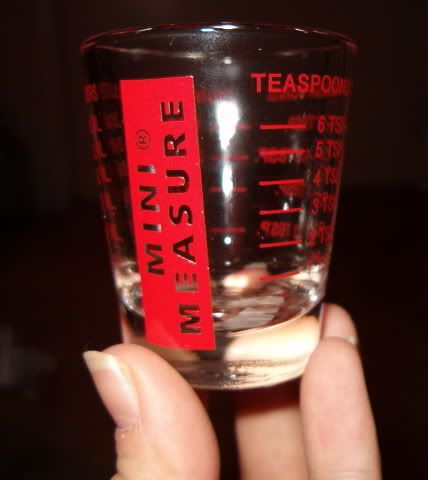 I laughed my ass off when I opened it. Because of course I see that it's a shotglass when I opened it. Then I saw the detail. My, I bet that is useful. Now I'll know just how many tablespoons of Jagermeister is in a shot. Heh. But seriously, I do see how useful it'll be when I
cook. So, everyone, go give Jochibi a visit and tell her what a wonderful SP she's been to me. THANK YOU,JO! And finally, for Zibbibbo, some yarn pr0n: