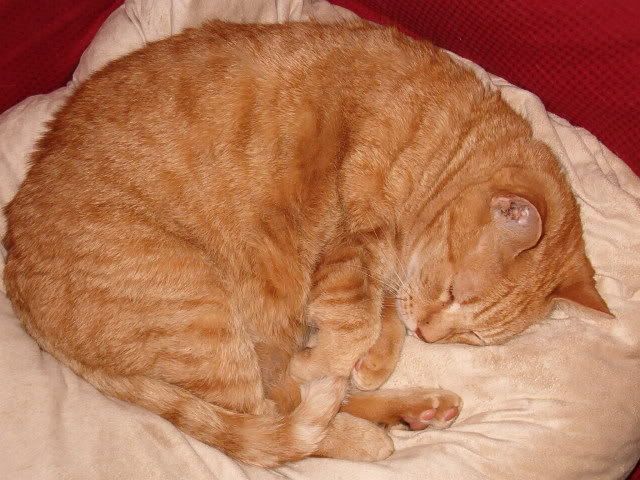 Pretty impressive hero huh? Here's the story. It was a beautiful day yesterday. I took advantage of the sun and mild weather to scrub out the litter boxes with some soap and water and let them dry in the sun. While I'm doing this, I leave the kitchen door open so the cats and come outside and enjoy the weather.
(First mistake)
I also decided to clear the patio of all the dead leaves that had gathered over the last couple months.
(Second Mistake)
Ripple came outside and sat in the sun for a bit, then wandered back inside rather intrigued by something going on behind the love seat. Uh-oh. The last time that happened after I'd been outside with the door open, that meant a mouse made it's way in. I started picking stuff up off the floor so I could see what was going on. And there it was. A teeny-tiny gray mouse. I ran to the kitchen to grab a strainer to trap the little guy. When I came back, it was no where to be found. Dammit. I tore the living room apart, no mouse. I admonished Ripple for not being a better hunter. I went upstairs and found Morris snoozing in a sunbeam. I picked him up and brought him downstairs and said "Find the mousey!" He looked at me like I was an idiot and promptly jumped up onto his pillow on the love seat and slept for the next 5 hours. Later on, just before half-time of the superbowl. I still hadn't seen that damn mouse again. I thought maybe it ran back outside and was gone. I went to the kitchen to get a drink, and there it was! I ran from under the dishwasher to under the fridge. Crap. How am I gonna get it out from under there? I tried a stick, that didn't work. I tried moving the fridge out a bit, that didn't work. Then I thought "A-ha! I'll spray it out!" What to spray though? The water bottle was upstairs, and anyway there's conditioner in it for my hair, and that'd make the floor all slippery, and I can't get under the refridgerator to mop up the water after anyway, so that'd be all moldy and gross. We don't want that on a new kitchen floor 3 weeks before a move. I looked under the sink at all the spray stuff I had. "OxyClean, no, gotta wipe that up. I need something I can spray and forget about. A-ha! Bug spray!" I bought this stuff because it was safe around pets. So I thought "Hey, I can spray it out with this, trap it, and set it free outside!" So I started to spray away. And it worked! The mouse came out, soaking in the stuff, not looking too healthy.
(Third Mistake)
And promptly squirmed back under the dishwasher. Damn. Now, I have to get it out from there. This thing is probably going to die, and I can't get under the dishwasher, so it needs to come out. I find the hole it crawled in and try again with the Bug Spray. It worked again! I'm a freakin' genius! An evil one, but genius none-the-less. I trapped the mouse. "Poor little guy, you don't look so good. It's only been a minute or so, maybe if I rinse it off you, you'll be ok." I slipped a piece of cardboard under the strainer, and went outside with it. I got a cup of lukewarm water and poured it gently over the mouse. "Please, don't die. Please be ok. I didn't mean to harm you. Honestly!" I moved it out into the grass and went back inside. About 15 minutes later, I went to check on it. "Uh-oh. You haven't moved. You're eyes aren't open. I'm a murderer! Ahh!" I felt so bad. I went back inside, depressed and upset with myself. I pick up my Booga Bag and start to knit. Thirty minutes later, half-time is over, the Rolling Stones stopped sounding like crap (only because they stopped playing) and I notice Ripple running around, trying to catch something behind the TV. "Must be a bug or something. I caught the mouse." I put down the Booga Bag and look behind the TV. "Dammit. Another mouse." Morris stirs, and jumps down from the Love Seat where he'd been blissfully ignorant for the past 5 hours of anything mouse-related, he gives a big old yawn and stretches. I move the TV, and a mere number of seconds later, I hear a scraping in the corner of the room. It's Morris! He's caught mouse! "Morris! You got it! Good job buddy! Where the hell were you 5 hours ago when this all started?" I managed to get an empty cup and coax Morris into dropping the mouse so I can trap it. Now, he wouldn't leave the corner where he'd caught it (except to stalk around the couch while I found the cup) so I was stuck with my hand holding th ecup down, and no paper within reach for me to slide under the cup and trap the mouse. And Morris wouldn't leave the cup alone. He knew his prize was inside. Problem was, this was no box of Cracker Jax. The only thing within reach was the surround sound speaker. So I put that on top of the cup and found the nearest piece of sturdy paper I could. Success! I run outside and put the mouse down onto the concrete. A little damp, and I think I saw a puncture wound in his side, but he scurried off as fast as he could. I was so proud of Morris. I gave the boys a treat and I've been calling Morris "Mo-Mo My Hero" ever since. I swear he puffs up with pride when he hears it. Good boy, Morris.